Campaign objective

The
Fighting New Enemies
campaign aimed to help raise awareness and donations for Australian veteran's and their families who face new enemies such as PTSD and depression when they return home from conflict.

The challenge
Returning service men and women often suffer problems when re-integrating into society such as dealing with mental and physical injuries, finding work, re-connecting with friends and family, depression and anxiety.
DefenceCare, a not-for-profit charity, rely on public donations to provide financial aid and support



A campaign website that raises awareness and debunks common misconceptions about PTSD by humanising them through deeply moving stories about the 'new enemies' veterans faced when returning from conflict. This would act as the main hub for donations, collecting traffic from all other campaign activity including TV placements, social, PR, display advertising and outdoor.
Keyword research uncovered engagement patterns with certain content types, with a dramatic increase in activity at specific times of year. This was further validated by talking to potential donars and veterans looking for advice and support. 
The strategy focussing on optimising these powerful stories to match these commonly searched for topics, increasing visibility and compelling people to donate and share. Reaching veterans would also help show them that they are not alone in the fight against these new enemies.


A simple IA was mapped out before wireframes and a prototype were designed to accommodate the stories. User testing was then conducted through a prototype, with the UI and content being refined to reflect user feedback.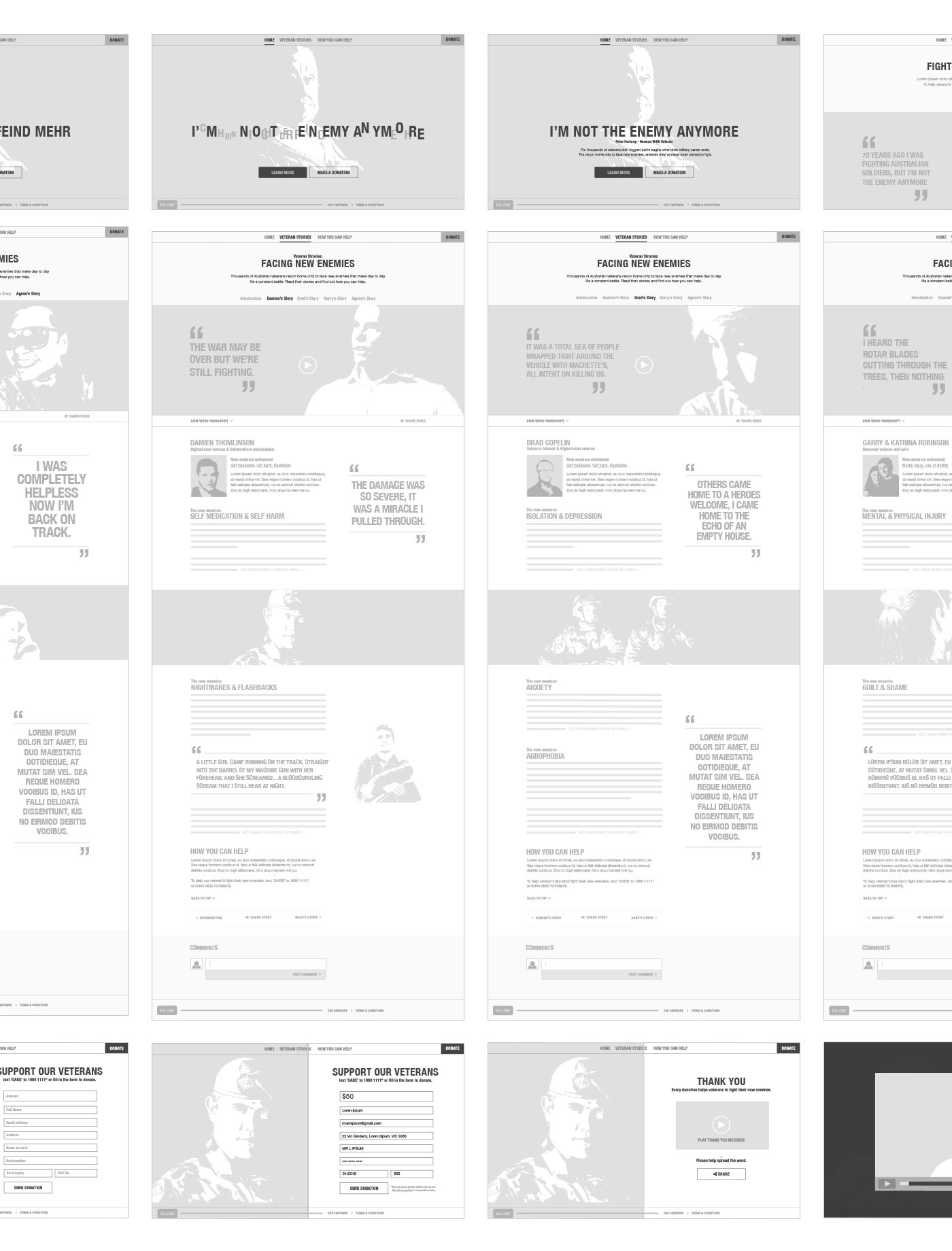 The visual design mirrored the tone of the wider campaign and sat within an interface that allowed for quickly scannable and shareable content. Video transcripts were also included for accessibility and an SEO boost.





Social media
Social media played an important role in the campaign, directing traffic to the website from video teasers and powerful quotes that were seeded out across social media by brand ambassadors. 



The website was launched in the lead-up to Remembrance Day, with the lead video receiving over 10,000 views within the first week and an immediate spike in donations being recorded.